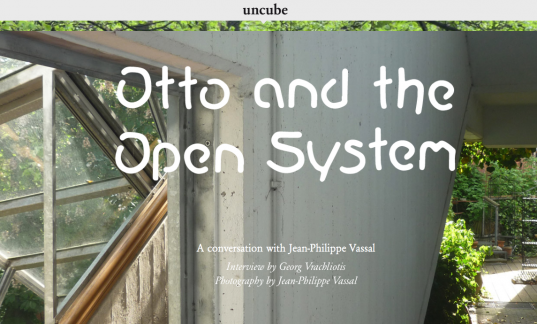 Jean-Philippe Vassal, one half of the French architecture duo Lacaton & Vassal, is a huge Frei Otto fan and particularly influenced by his 1980s "Eco-houses" in Berlin.  Georg Vrachliotis talked to him for uncube magazine about designing open systems in architecture and ensuring maximum freedom for residents.
uncube magazine: Interview
"Imagine you spent your entire career researching and developing modular building systems. Imagine you gave the world radical new approaches to construction design and helped introduce the use of computer technology in architecture. And then imagine that most people only know your name in connection with one office furniture system. An office furniture system that you developed once as part of one contract for one company based in one small village in Switzerland. A system that despite its lowly origins became a global success and a universal by-word for simple, functional storage. And publicly overshadowed all your efforts as an architect. Such a fate is that of the Swiss architect Fritz Haller. We've written at length in these pages about the USM Haller storage system. But much less about Fritz Haller and his architecture. Largely because there is so little reliable information. There is however one very reliable source, Dr. Georg Vrachliotis, professor for architectural theory at the Karlsruhe Institute of Technology (KIT)."
An Interview with Georg Vrachliotis published by smow.