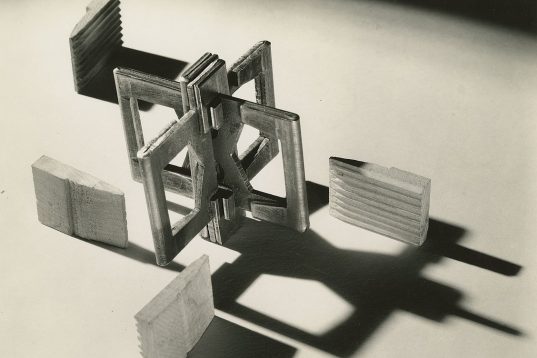 Bauhaus Lab Global Modernism Studies
Symposium
Thursday, 9 August 2018
11 am – 4 pm
Exhibition
9 August – 30 November 2018
Opening: Thursday, 9 August 2018
5 pm, Bauhaus Building
With Suzanne Strum (architectural historian, Barcelona), Douglas Murphy (architect and author, London), Christian Sumi (architect, Zurich), Georg Vrachliotis and the Bauhaus Lab participants 2018: Elizabeth Andrzejewski, Phillip Denny, Rhiannon Haycock, Ezgi Isbilen, Adam Przywara, Eva-Maria Offermann, Daniel Springer, Lisi Zeininger.
Konrad Wachsmann's universal connector is a metal connecting node utilised in the construction of prefabricated houses, devised under the shadow cast by the Second World War. It was first used in 1949, in the General Panel System designed by Wachsmann and Walter Gropius. For Wachsmann, the connector combined his interest in the rationalisation and standardisation of architecture with concepts of universal applicability. Like almost no other, Wachsmann advanced the industrialisation of architecture and the possibilities associated with it to arrive at a turning point in architecture.
Over the past three months the Bauhaus Lab 2018 has explored the universal connector's historic relevance to modern architecture, especially in the context of the transatlantic discourses of postwar modernism. To conclude the Lab, interested students as well as architects, designers, cultural scientists and curators are invited to attend a symposium to discuss the architecture of systems, the ambivalent legacy of prefabrication and the relevance of the "turning point" in architecture with designers, historians, scientists and the participants of the Bauhaus Lab 2018.
The Bauhaus Lab 2018 Symposium and Exhibition is organized by:
Regina Bittner, Director
Bauhaus Dessau Foundation
Gropiusallee
3806846 Dessau-Roßlau
Germany