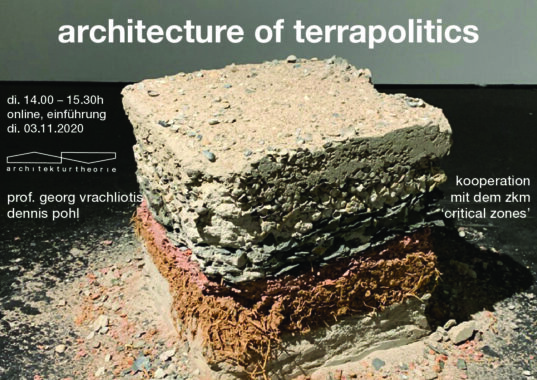 Prof. Dr. Georg Vrachliotis
Dennis Pohl
Architekturtheorie Seminar BA/MA
dienstags, 13.00-15.30 Uhr, teilweise vor Ort
Einführung: 03. November 2020, online
Eine Kooperation mit dem ZKM Ausstellungsprojekt "Critical Zones"
Architektur formt unsere Erde. Wie Gebäude weltweit hergestellt und gebaut werden, ist ein Prozess, der nicht mehr nur an der Erdoberfläche stattfindet. Die Erde wird längst digital neu vermessen, um Sandstein, Eisen, Kupfer oder Lithium durch aufwendige Verfahren abzubauen und für die Bauindustrie aufzubereiten. Rohstoffe werden zu einem politisch umkämpften geologischen Kapital der globalen Architektur. Doch wie hängen Bauen, Rohstoffe und Digitalisierung zusammen? Und was ist der geologische Fußabdruck der Architekturproduktion?
Die Veranstaltung ist als Lektüre- und Rechercheseminar konzipiert. Ziel ist es, sich mit Raum-, Material-, und Medientheorien aktueller Ökologiediskurse auseinanderzusetzen.
Architecture shapes our earth. How buildings are produced and constructed worldwide is a process that no longer takes place only on the surface of the earth. The earth has long since been digitally re-mapped in order to extract sandstone, iron, copper or lithium using complex processes and prepare them for the building industry. Raw materials are becoming a politically contested geological capital of global architecture. But how are architecture, raw materials and digitization related? And what is the geological footprint of architectural production?
The event is organized as a reading and research seminar. The aim is to explore the spatial, material and media theories of current ecological discourses.